DAR STEWARDSHIP
The DAR, founded in 1890 and headquartered in Washington, D.C., is a non-profit, non-political volunteer women's service organization dedicated to the objectives of patriotism, education and historic preservation. Every day Daughters from small towns to metropolitan areas are making a difference in their communities.
Any woman 18 years or older, regardless of race, religion or ethnic background, who can prove lineal descent from a Patriot of the American Revolution, is eligible for membership. DAR volunteers are willing to provide guidance and assistance with your first steps into researching and documenting your genealogy.
Please explore our
National Society's Website
for further membership information and to learn much more about the Daughters of the American Revolution.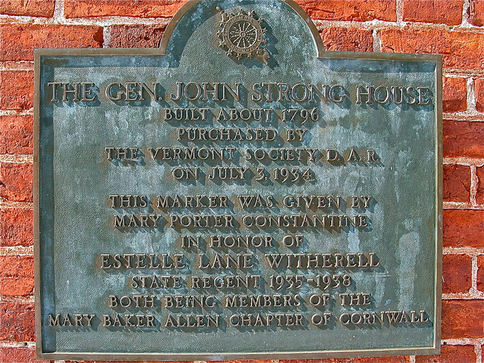 The Vermont State Society DAR has owned the Strong Mansion and operated it as a museum since 1934. We are proud to share this historic treasure with all who are interested in the history and culture of the Champlain Valley in the late 18th and early 19th centuries.

The Mansion is the most visible public symbol of Vermont Daughters' continuing dedication to promoting patriotism, preserving American history and securing the future through educating the public in America's history.

Each year Vermont Daughters donate over 1000 hours of volunteer time to the Mansion by serving as Trustees, performing curatorial duties, conducting tours, maintaining the gardens, and working to enhance public awareness and financial stability.


---